Regular price
Dhs. 231.00 AED
Regular price
Dhs. 274.00 AED
Sale price
Dhs. 231.00 AED
Unit price
per
Sale
Sold out
MP3 HQ Audio

Up to 30 H battery

Thinnest & Slimmest
Share
Technical Details
Outer dimensions : 1.6 inch squared shaped
Weight – Only 0.5 oz
Battery - rechargeable 200mAh / 30 hours in recording mode
Audio format - MP3 - We recommend using VLC Player to playback files
Smart Voice Activated Sensor Built-In
Recording while charging feature
Recording quality 128 kbps up to 15 feet
Time-stamped recordings
USB-C adapter
Operating system -Windows7/8/10, macOS
The ATTO DIGITAL Promise:
Shopping with us is easy and painless.
If you are unhappy with your purchase in any way, we'll make it right.
Real, Live Customer Service
Free 30-Day Returns
1 Year Warranty
View full details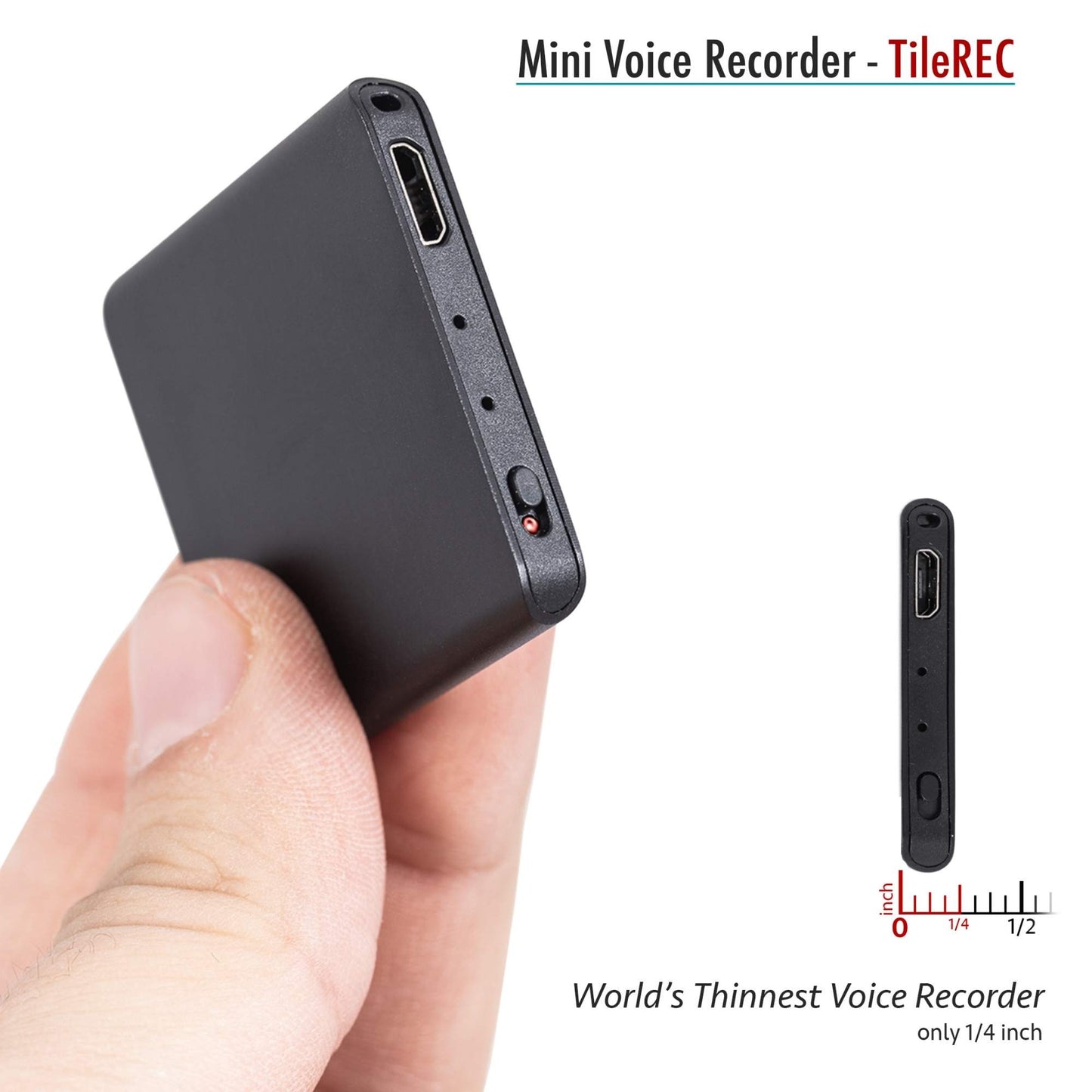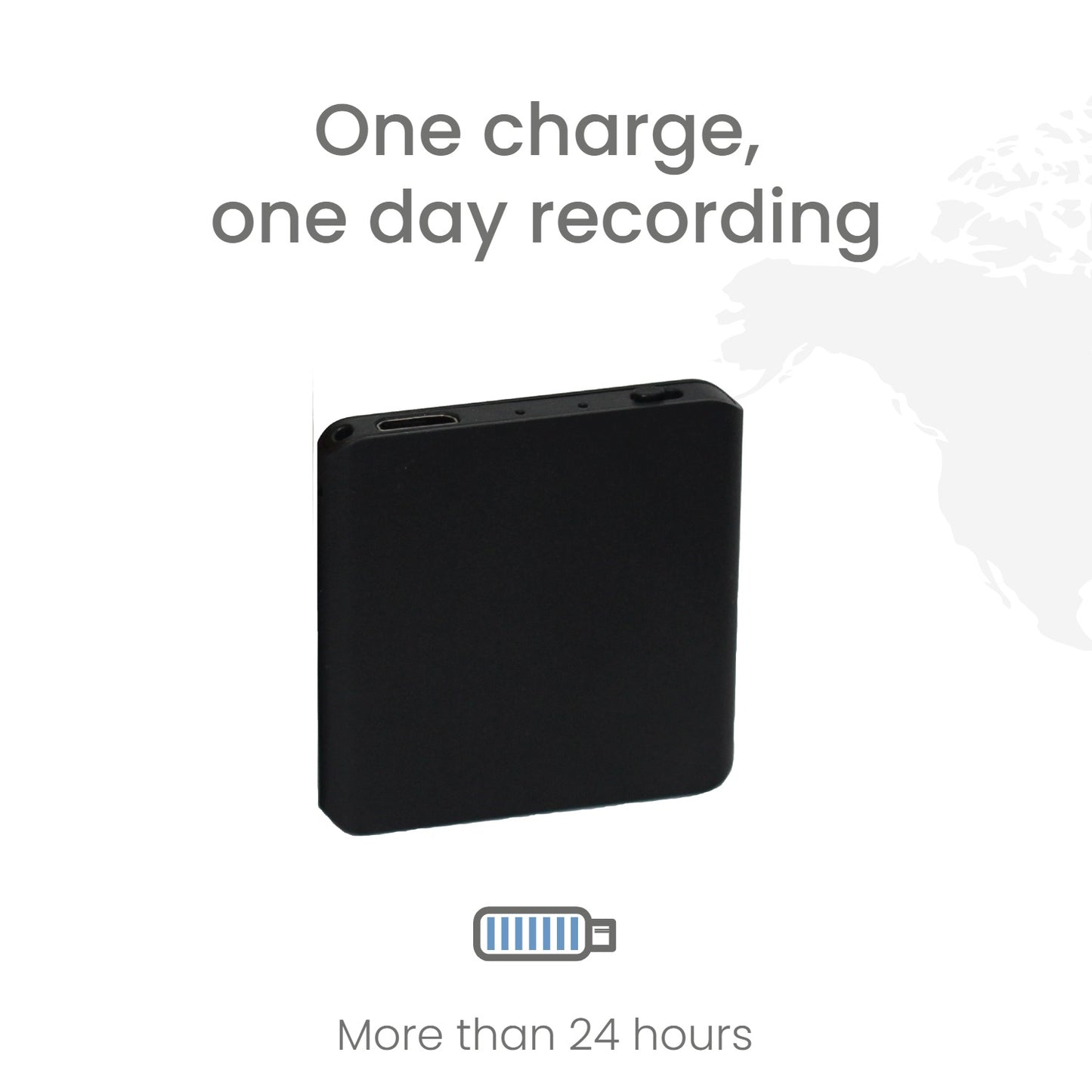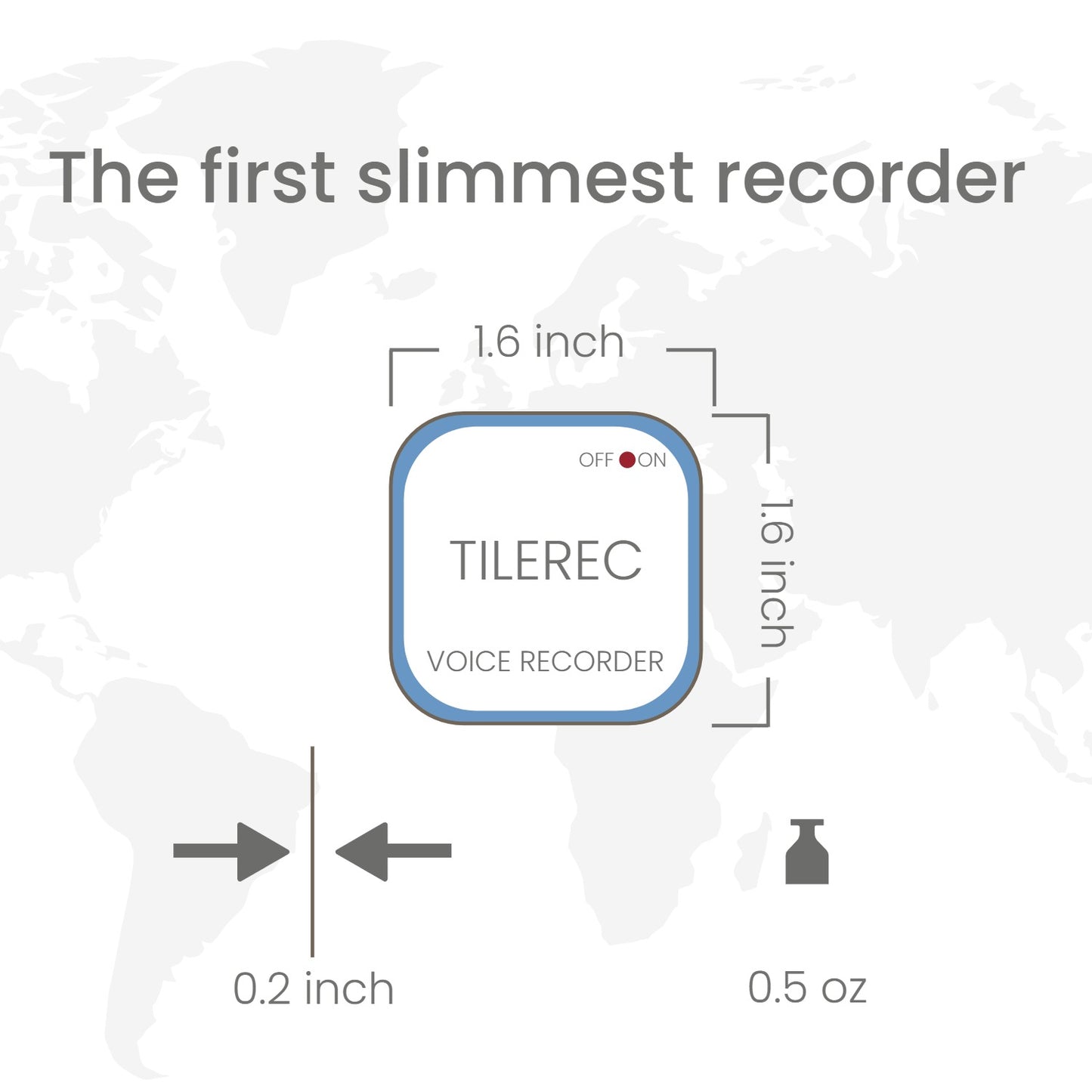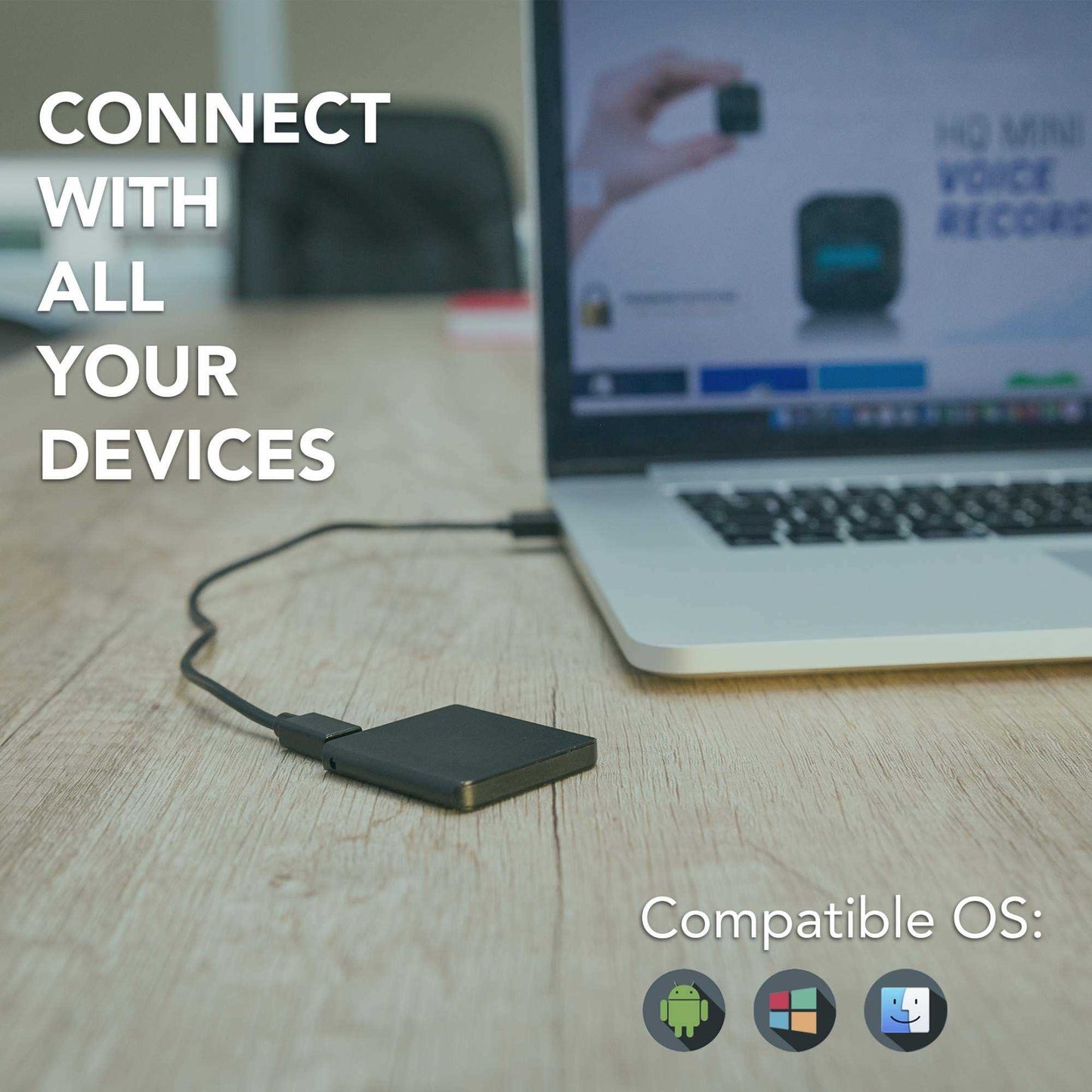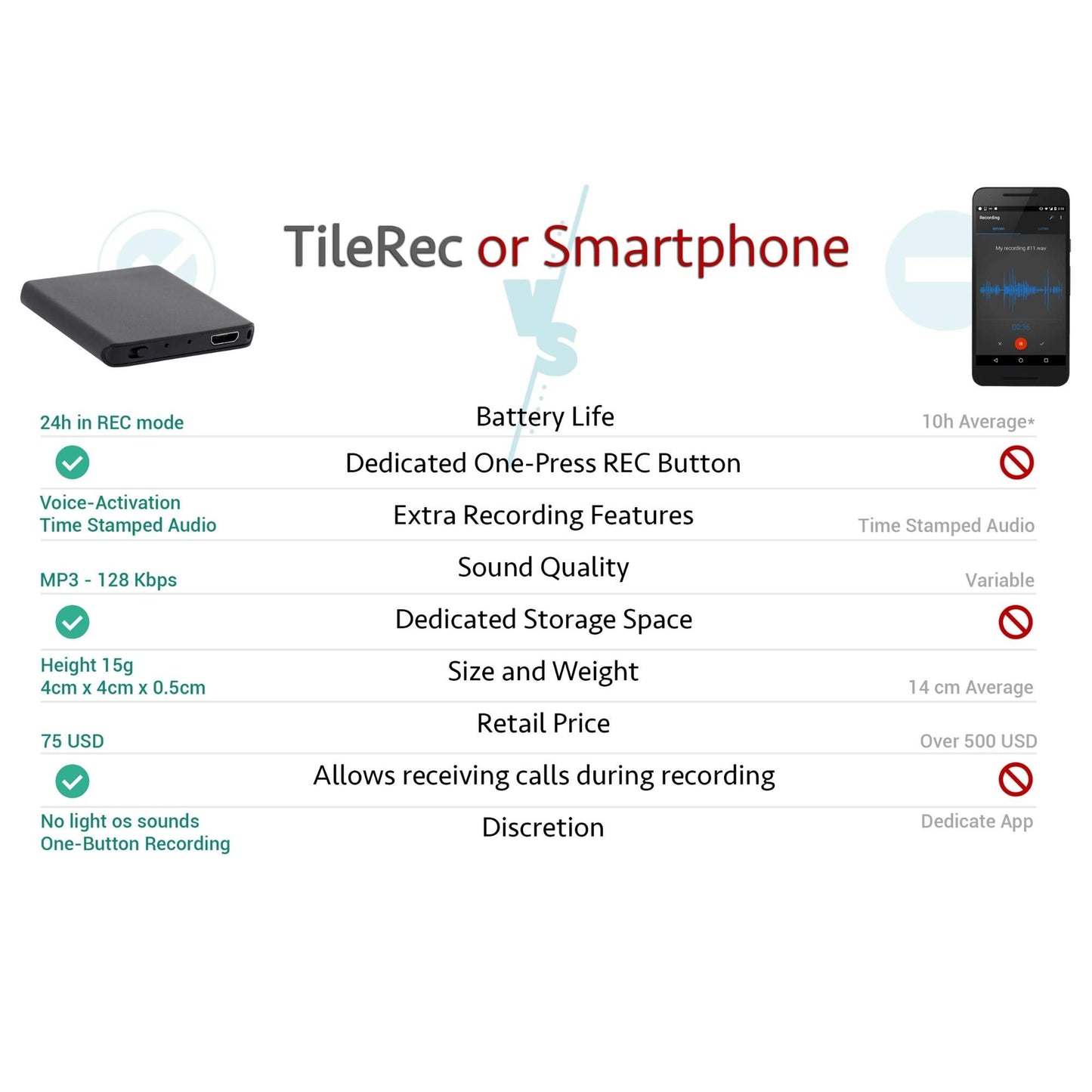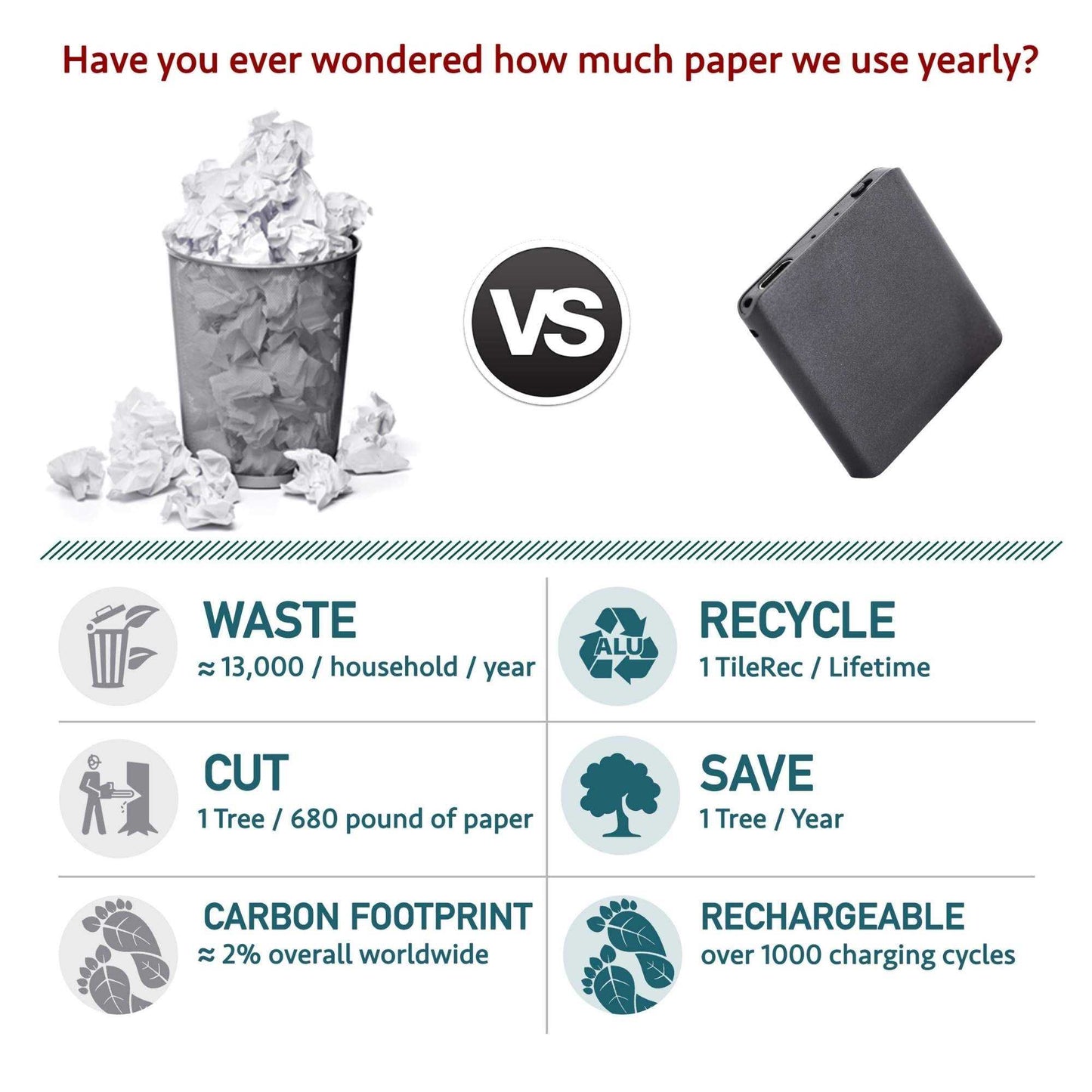 Testing review of ATTO DIGITAL
Redefining Voice Recording in the Digital Age
Slim and Portable Design

TileRec's ultra-slim design sets it apart from traditional voice recorders.

It effortlessly fits into your pocket, wallet, or notebook, making it a discreet and convenient companion for capturing important
moments on the go.
Despite its small size, TileRec boasts exceptional sound quality and performance, ensuring that no detail goes unnoticed.
High-Quality Audio Capture

With its noise-cancellation technology and omni-directional microphone, TileRec ensures crystal-clear audio recordings in any setting.

Whether you're conducting interviews, attending meetings, or recording personal
memos, TileRec captures every nuance and detail with outstanding clarity, providing an immersive listening experience when you playback your recordings.
With just a single button, you can start and stop recordings effortlessly, ensuring that you never miss a vital moment.

This intuitive functionality makes TileRec accessible to both beginners and seasoned professionals, allowing anyone to dive into voice recording with ease.
Seamless Usability

TileRec has redefined voice recording in the digital age, combining convenience, performance, and exceptional audio quality in a compact device.

Its sleek design, one-touch operation, and seamless connectivity make it a standout choice for professionals, creatives, and anyone seeking a powerful voice recording solution.
With TileRec, capturing and preserving important moments has never been easier. Experience the future of voice recording with TileRec and unlock the potential of your audio journey.
TileRec - Thinnest Voice Recorder
Description

Practical, Portable & Efficient.

TileRec is much more than just the slimmest mini MP3 voice recorder.

When we say "World's Smallest", we mean it. Measuring in at a staggering 1.6 inch in length, and 1/4 inch in height, weighing only 0.5 oz nothing else on the market comes close with the efficient portability offered by TileRec.

Record the entire day then just plug & play all your recordings.

Unique and Reliable Design

We designed the world's thinnest Voice Activated Recorder just to be sure that it will fit anywhere and anytime in your daily routine.

The TileRec Dictaphone fits easily in your wallet, your pocket or purse so you can use it any time you need to record important sounds in your life.

The shock resistant aluminum case brings preace of mind knowing that you can drop it or step on it but the TileRec will keep capturing audio for the entire day.

Easy Operation With Voice-Activated Recording

Imagine how you'd feel if you had one chance to get something on tape...but you forgot to press 'record'... You'll never have this problem with this voice activated recorder. It will automatically turn on and start recording when it hears a conversation happening (roughly 45dB). Audio can be captured clearly up to 50-feet away.

Set the device where you want it, and then forget it. It'll turn on the next time it hears sound thanks to its voice-activation feature.

When the sound stops for any length of time, it turns off and saves the audio file to the internal memory.

Tiny but Mighty

We designed TileRec to exceed even our own extremely high personal standards.

Thin: Only 1/4 inch thin. Fits easily in the slimmest wallets.

Small: As small as a piece of a chocolate bar ( 2.48 square inch).

Light: As light as a US penny (0.5 oz).

Long-lasting Battery: 24 hours on one charge. Designed to be used the entire day.

Surround Recording: 360 degrees recording in a 15 feet range. Meeting, lecture or simple discussion - all sounds are easily captured with HQ clarity.

Resistant: 100% recycled aluminum casing. Sleek design that blends seamlessly in the everyday setup.

We're Here To Help

At ATTO DIGITAL, we make buying and using our products as hassle-free as possible. This audio recorder comes with free lifetime tech support, a 12-months warranty, and free 30-day return. If at any point you have any questions, just get in touch with us.
Uses

Customers Use This To:

IMPROVE PUBLIC SPEAKING


The phenomenon of "voice confrontation" is real, arising from differences in expected frequencies and "extra-linguistic cues".

You can improve tone, speaking cadence, and volume.

RECORD IDEAS ON THE GO

Walk and talk out the important ideas you have anywhere, with just a slide of the button.

Have an idea about your next podcast or a new song? Getting ready for a big meeting while commuting?

Just slide the REC button and let the creative magic flow.

PEACE OF MIND

Leaving your child at home with the nanny for the first time?

Or do you want to check how noisy is your dog when you're not at home?

Using the TileRec in voice-activation mode is your to-go solution to monitor the wellbeing of your loved ones and ensure your peace of mind.

FOR PROFESSIONAL USE

Lawyers may use them to take voice notes while preparing cases, while criminal investigators record digital notes in the field, and doctors use it to record important info about cases. If you make a living in one of these fields, you may find a portable voice recorder invaluable.

Or you can use TileRec Audio Recorder for work to:

Record talks with their bosses & coworkers

Record professional seminars and lectures at schools

Record sales talks to figure out how you can improve
How it works

START

Just flip the switch to the UP position to start a new recording. The indicator light will flash 8 times to confirm that a recording has started.

If needed, you can programm the LED to blink or to stop blinking.

Just properly set the time.txt file:

Line 1

Time and date in military format

Line 2

0 for continuous recording mode
1 for voice activation mode

Line 3

0 to stop LED from blinking
1 for blinking LED

STOP & SAVE

When you're done recording, flip the switch to the DOWN position to save the file.

 

PLAYBACK

To hear the recording you just made, plug it into your computer - a folder called RECORD on the flash drive will automatically open. Your taped conversations will be inside that folder.
What's in the box

What's In The Box

TileRec Voice Activated Recorder

USB cable

USB-C adapter

OTG cable (for Android users)

User manual