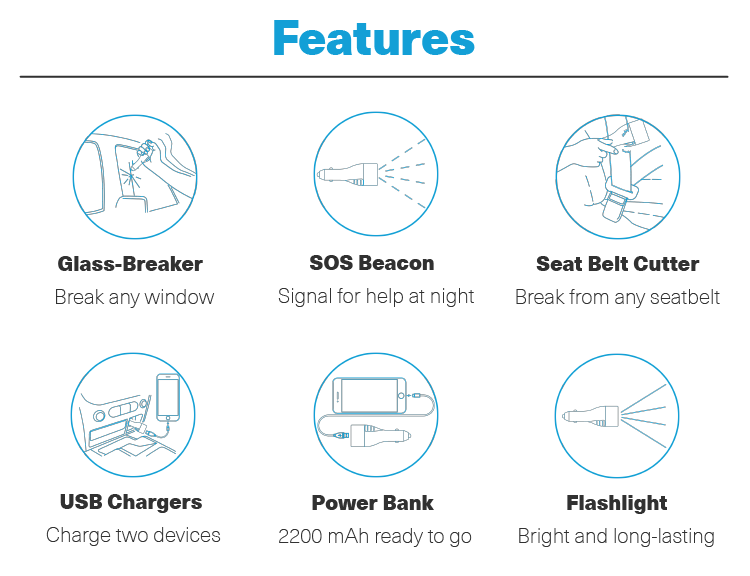 2BEsafe is the original design, patented emergency escape tool that can be integrated into everyday life.
The problem with existing car emergency tools is that after a while, you forget where it is. Emergency tools are usually stored in a side pocket, attached to a keychain, locked in a glove box, or in the trunk of a car. If an accident were to occur, these tools may not be reachable during an accident.
The self-rescue 6-in-1 car charger is always within an arm's reach and integrates a high-powered flashlight with 2-mode light and an SOS beacon, a spring-loaded punch head that enables you to quickly break car windows to ensure a viable escape route, while the integrated blade boasts enough sharpness to cut through 5000-pound towing straps with ease.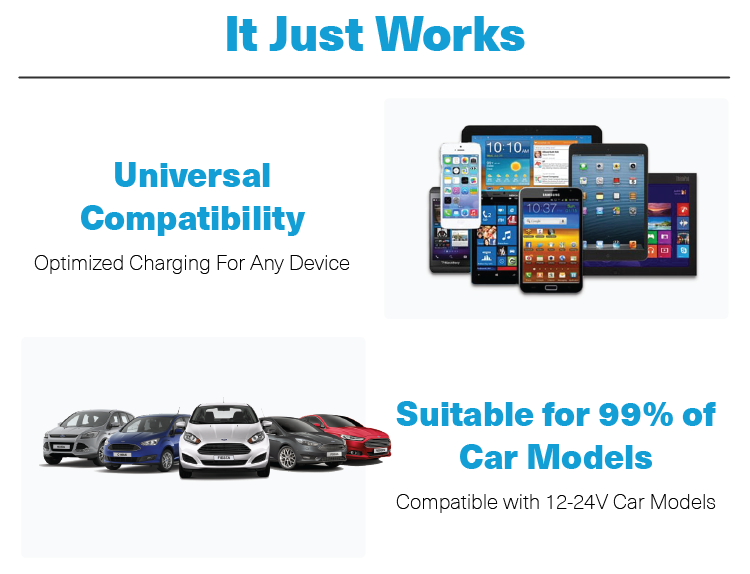 Our unique innovation comes with:
Two 1.2/2.4 V USB ports, so you can charge a pair of gadgets at the same time, while an integrated intelligent circuit design ensures protection against short circuits, over-heating, and over-charging.
A powerful 2200 mAh built-in Li-Ion battery allowing it to be used as a power bank. Design to serve as an everyday charger, the perfectly engineered automotive emergency tool is always within reach if a critical situation occurs. When it comes to safety, you deserve the best!
High-powered flashlight that lasts up to 4 hours in high mode (135 lumens) and up to 20 hours in low mode (50 lumens).
The S.O.S. beacon lasts up to 28 hours to signal for help or warn others during night time emergencies.
Window glass breaker with a steel window spring-loaded pin is especially engineered to brake any tempered car window (NOT windshields).
Seat belt cutter cuts through any jammed seatbelt with the integrated razor-sharp cutter blade made of hard high-carbon steel.
There is no related products to display.